MICA/Ceramic frame heaters
Elmec flat heaters & Heating Frames are available in any dimensions. They can be delivered in Mica or Ceramic insulation, depending on the temperature requirement. We built every technically possible heaters as per your requirement.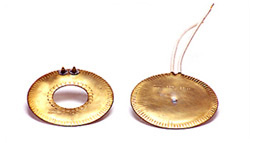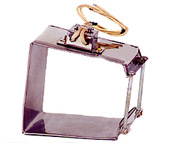 FEATURES MICA/CERAMIC FLAT & FRAME HEATERS
Supplied in Mica as well as Ceramic insulation

Mica insulated type

max. charge 25 watts/sq.inch

max. operating temp 250° C.

Ceramic insulated type

max. charge 40 watts/sq.inch

max. operating temp 360° C.

Can be supplied to customer specifications and drawings
Applications
Plastic Processing machinery.
Injection and Blow Moulding.
Moulds and Dies.
Extruders.
Mineral insulated flat heaters
Elmec mineral filled heaters are designed and developed to replace Mica Strip heaters. These heaters provide trouble free long lasting service even at high temperatures and watt density. Helically wound coil is placed inside a tube filled with MgO and pressed to get a flat surface.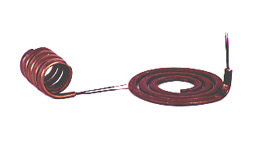 Features
Available in SS304,SS316 and Iconel sheath.
Max watt density 10w/sq cm
Max operating temperature 450 °C
Screw or Wire terminals.
Applications
Plastic processing machinery
Tank heating.
Zinc and Lead melting pots.
Bag cutting and sealing machine.
Elmec Strip Heaters are made of helically wound resistance coil evenly stretched and strung through series of ceramic insulators. Resistance coil is mechanically connected to screw terminals or lead wires for positive connection. The element assembly is electrically insulated and covered by metal sheathing.
Kanthal resistance wire (Nickel Chrome resistance wire optional)
Screw or wire lead termination
Available with fins
Maximum sheath Temperature: 400oC
Nominal watt density: 3.2 watts/cm2
Available in sizes: (W x T) 32mm x 8mm, 38mm x 10mm, 45mm x 12mm.
Length Maximum 2000mm
Ovens
Hot plates
Moulds
Dies
Drying
Melting
Baking
Incubators
Food Warmers
Air Heating
Sealing Bars
Load Banks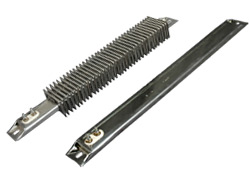 When ordering please specify
| | |
| --- | --- |
| Width of the heater | Heater Thickness |
| Wattage and Voltage | Type of termination |
| Length of the heater | |
Drawing required for special type construction