Elmec Hot Runner Controllers are efficient and economical. Our Multi zone Hot runner Controllers are by single temperature control modules assembled in a cabinet. SSR controlled outputs (or) Thyristor controlled outputs to control Hot runner Heaters & Manifold Heaters are available.
Features
Advanced P I D Control algorithm
Maximum output power per zone : 3600 watts
Supply Volts : 230v/ 415v - 3 Phase
Dual Display: Set point and actual temperature
Thermocouple input : Universal Type
Temperature display : oC (or) oF selectable
Output :SSR /Thyristor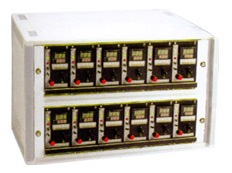 Applications
For Controlling Hot Runner heaters & Manifold Heaters in Plastic Injection Moulds.