Elmec Split Type Cartridge Heaters are developed for high temperature applications. Helically wound resistance coli are placed inside the tube filled with MgO powder and compacted for faster and efficient heat transfer.
Elmec Split Type Cartridge Heaters are custom made and are used in various applications including heating Dies, Mould, Compression Moulds, Leather press, Printing and packaging industries, Grid casting Mould in battery industries, Aluminium Extrusion. Sand Core making dies in casting industries.
We use high quality MgO powder, Nichrome resistance wires. Outer sheath is available in SS 321,316. These heaters come with screw terminals and also with terminal leads are of FG insulated with standard length of 300mm. Please specify while sending enquiry if you need longer terminal leads. We also supply different types of terminal exit.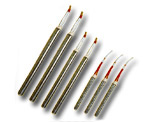 Elmec Split type cartridge heaters are used by leading OEMs and Plastic, Rubber, Packaging, Printing. Leather, extrusion and casing industries. We are supplying to Indian and overseas industries / markets.
Elmec developed Split type cartridge heaters for applications as high as 600 deg cen temperature. These are used in Aluminum Extruders.
Do's and Don'ts:
Please take care while fixing heaters and selecting watts check Volts rating of heaters before connection. Heater rated for particular volts should never be connected to higher volts rating.

These heaters are rigid and heat transfer is by conduction from inside surface so perfect fixing and clamping is important.

No foreign materials such as polymer, oil, water etc., should fall over the heaters. They should be well covered.

Choose appropriate watts as per calculation. Under rated watts will result in heater failure.

Never pull the heaters with terminal leads. Never use terminal leads for holding heaters.

All heaters have a cold length of about 15mm to 25mm at terminal side. Hot length of heaters must be inside the hole where the heater is fitted.
Features
Excellent heat transfer.

More clearance can be provided for inserting split type cartridge. Heaters compared to standard conventional cartridge heaters.

Can be inserted and removed easily.

Longer life.

Uniform heat transfer.

Available in SS304 SS316 sheaths.

Hot zone up to the tip of the element.
Applications
Plastic Processing & Packaging Machinery

Injection & Blow Moulding

Extruders

Foundaries

For fastening of Turbine Bolts

Soldering pots

When ordering please specify

Dia & length of the heater

Wattage and voltage

Type of terminal

Drawing for special type configuration
| | | | | | | | | |
| --- | --- | --- | --- | --- | --- | --- | --- | --- |
| Available | Dia: Mm | 6.5 | 8 | 10 | 12.5 | 14 | 16 | 19 |
| Length(mm) | Min | 40 | 40 | 40 | 50 | 75 | 75 | 100 |
| Max | 500 | 600 | 900 | 1500 | 1500 | 1500 | 1500 | 1500 |
We can manufacture and supply any intermediate diameter and length, Send drawing or sample for special size
When ordering please specify
Dia & length of the heater
Wattage and voltage
Type of terminal
Drawing for special type configuration