The moisture in the Plastic Resins (Hygroscopic and Non-Hygroscopic) will effect the surface finish and quality of the molded component. We have designed a compact and economical HOT AIR HOPPER DRYER to overcome this problem.
Features
Drying capacities ranges from 25 Kgs to 100 kgs
Direct Machine mounting
Tubular type heaters for longer heater life
Solid state temperature controller for reliability
Process air temperatures to 150°C and higher with options
Fiber glass insulation optional
Low power consumption
Specially designed diffuser cone for uniform heating and drying
Detachable air distribution system for easy cleaning
Technical Specifications
Model
Hopper Capacity Kgs.
Heater Load KW
Blower Load KW
Dimensions
Dia
mm
Heigth
mm
HAHD-25
25
3
0.16
475
750
HAHD-50
50
4.5
0.16
475
1000
HAHD-75
75
6
0.18
550
1250
HAHD-100
100
9
0.37
550
150
Hopper Dryer Attachments
We offer an unique system to convert existing hopper into dryer just be replacing the top lid of the existing hopper.
Features
Heat insulated air duct
Thermostatic control of temperature
Economical and low power consumption
Easy to fix over the existing hopper
Modular type heating element for effective and efficient heat transfer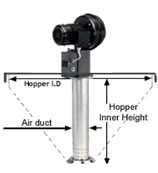 Dimensions

Model
Duct Depth(mm)
Duct Dia(mm)
Base Dia(mm)
Heater load (Watts)
Volts
PF-50
300
50
50
750
230
PF-60
300-400
60
120
1000
230
PF-70
450-600
70
140
1250
230
PF-90
600-900
90
180
1500
230