Elmec nozzle band heaters are custom made and are available in Mica, ceramic, Fully Sealed mica type and spiral nozzle with externa strap and brass bush. Mostly used in injection moulding, Knife heating in woven sack industries, sealing machines and other applications.
Mica type nozzle heaters are economical and suitable for temperatures up to 280 deg cen.

Ceramic nozzle heaters are suitable for temperatures up to 350 deg cen.

Sealed type nozzle heaters are good at places where there is drooling of plastic and suitable for temperature up to 280 deg cen.

Spiral type nozzle heaters are available with internal brass bushing suitable for harsh conditions and for high temperature applications mostly for glass filled polymers and nylon / teflon based polymers.
Elmec Nozzle heaters are used by leading OEMs and Plastic processing industries. We are supplying to Indian and overseas industries / markets.
Elmec Nozzle Band heaters are available as
Mica Nozzle Band Heaters
Plastic proof Nozzle Band Heaters
Leaf Proof Nozzle Band Heaters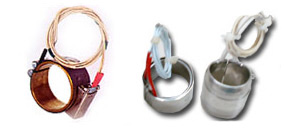 A. Mica Nozzle Band Heaters
Sheath material brass.
Max.operating temp 280°C.
Max.surface load 25w/sq. inch.
Fiberglass or Teflon insulated SS mixed wire terminals.
B. Plastic proof Nozzle Band Heaters
Plastic proof.
Sheathing material high grade steel or brass.
Operating temp brass 280°C - SS 350°C.
Max. surface load Brass 30w/sq. inch, SS sheath 45w/sq. inch.
Metal braided Fiberglas wire terminals.
C. Leaf proof Nozzle Band Heaters
Plastic proof.
Sheathing material high grade steel.
Max.operating temp 600 °C.
Max.surface load 60 w/Sq. inch.
Insulation - high grade mineral insulation.
Metal braided fiberglass wire terminals.
Applications
Hot runner bushings.
Nozzles of plastic processing machineries.
Do's and Don'ts:
Please take care while fixing heaters and selecting watts, check Volts rating of heaters before connection. Heater rated for particular volts should never be connected to higher volts rating.

These heaters are rigid and heat transfer is by conduction from inside surface so perfect matching of dia is important. Heater should be fastened tight without air gap. Heater fixing surface should be perfect. Mica nozzle heaters should be tightened again after set temperature is reached as mica heater expands a bit. this will ensure better life.

No foreign materials such as polymer, oil ,water etc, should fall over mica and ceramic nozzle heaters they should be well covered.

For Sealed type and spiral nozzle heaters it's not a problem they work in such conditions.

Choose appropriate watts as per calculation. Under rated watts will result in heater failure.

Temperature control should be taken care. For higher temperature application do inform us while ordering.