Elmec Ceramic Cartridge Heaters are custom made and are used in various applications including heating of Ovens, Dryers, Water and Oil heating. Ceramic cartridge heaters are good at places where indirect heating is required. We have developed heaters to a maximum capacity of 320 KW. Ceramic cartridge heaters assembled in SS 304 tube sheath and assembled to ANSI flanges of various sizes for oil heating applications.
We use high quality ceramic insulators, Nichrome / kanthal D resistance wires.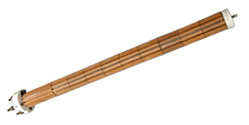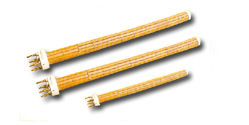 We can also supply with outer casing and flange of thread type or disc type as per customer specifications. These heaters come with screw terminals.
Elmec Ceramic cartridge heaters are used by leading OEMs and Cement, Pharmaceutical, Food processing, Metal processing industries, plating shops. We are supplying to Indian and overseas industries / markets.
Do's and Don'ts:
Please take care while fixing heaters and selecting watts check Volts rating of heaters before connection. Heater rated for particular volts should never be connected to a higher volts rating.

These heaters are rigid and heat transfer is by conduction and radiation from the outer surface so perfect fixing and clamping is important. Tubes must be cleaned before installing heaters.

Periodical cleaning of the tube outer surface is a must for heater life.

No foreign materials such as oil, water etc., should fall over the heaters. They should be well covered.

Choose appropriate watts as per calculation. Under rated watts will result in heater failure.

Never pull the heaters with terminal leads. Never use terminal leads for holding heaters.

Please specify cold length if required near the terminal and at bottom side.

These heaters should be placed horizontally and never fix vertically.

Tio fix vertically factory assembled heaters should be used as we used filling powder to avoid sagging of heaters.

We supply these heaters with vertical fixing for plating tanks with SS 316, Titanium sheathed and in some cases with Teflon coating as well.

Please send your enquiries with your specific requirements.
Surface watt density:
For oils - 1.4 to 4 watts / cm2
For wter - 1.4 to 8 watts/cm2
For Metals - 2 to 5 watts/cm2
For air 1.6 to 3.2 watts/cm2
Applications:
Heading Liquids & gases

Dryers

Ovens

Printing Machinery

Packing Machinery

When ordering please specify:

Dia & length of the heater

Wattage and Voltage

Type of terminal

Cold zone length & hot zone length
When ordering please specify:
Dia & length of the heater
Wattage and Voltage
Type of terminal
Cold zone length & hot zone length