Elmec is a leader in the heater industry by manufacturing high quality ceramic band heaters. Our Ceramic Insulated Band Heaters can meet the demand for energy conservation & operation efficiency.
Elmec ceramic band heaters are custom made and are used in various applications including heating plastic machine barrels, Dies, nozzles, drum heating, Pipe heating, Incinerators, lead mealtin, etc.,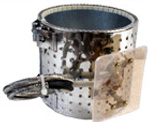 We use high quality Steatite insulators, Nichrome resistance wires for serving high temperature applications. Recent development in polymers requires high processing temperature for specific applications and our heaters serves this purpose perfectly.
Elmec Ceramic band heaters are used by leading OEMs and Plastic processing industries. We are supplying to Indian and overseas industries / markets.
Elmec is first to develop ceramic band heaters for napkin incinerators and proven in its application by supplying to countries leading napkin incinerator manufacturers. Our heaters are good for temperature as high as 850 deg cen. and exclusively made for this purpose.
Do's and Don'ts:
Please take care while fixing heaters and selecting watts check Volts rating of heaters before connection. Heater rated for particular volts should never be connected to higher volts rating.

These heaters are flexible and heat transfer is by conduction from inside surface so perfect matching of dia is important.

No foreign materials such as polymer, oil, water etc, should fall over the heaters. They should be well covered.

Choose appropriate watts as per calculation. Under rated watts will result in heater failure.

Temperature control should be taken care. For higher temperature application do inform us while ordering.

All heaters come with internal ceramic fiber insulation for energy saving. Additional cover can be provided upon request at additional cost. Do infor at enquiry stage. Good only for sizes bigger than 100mm dia.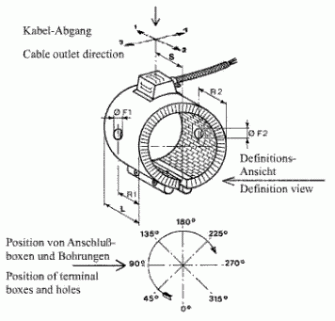 Ceramic band heaters for Extruders:
Elmec also manufacture ceramic band heaters with cooling cover and heaters with copper, Aluminum fins. Consult with us before sending enquiry for such heaters requirements. We can supply heaters for your existing blower cover / blower. Customer need to give correct dimensions to execute such supplies.
Features
Nickel Chrome Resistance Wire.
Ceramic Fiber Insulation reduces power consumption by 20 to 30%
Available with heating & cooling combination.
Max.7 watts per sq. cm.
Max.Temp.250oC
Terminal Box, European plug option.
The electrical connection is available with cable outlets or post terminals covered with junction box.
The heater can be manufactured from a diameter of 38 mm upward.
For special type of terminals,drawing is required.
Applications
Plastic Processing Machinery.
Injection and Blow Moulding.
Extruders & Many other applications.