Elmec Mica Band heaters are made of Nickel Chrome resistance ribbon precisely wound on specially selected Mica or Micanite sheet. It is then insulated and covered by metal sheathing and rolled to the required shape. We build every technically possible heaters as per your requirement.
Elmec Mica band heaters are custom made and are used in various applications including heating plastic machine barrels, Dies, nozzles, drum heating, Pipe heating, etc.,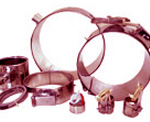 We use high quality Mica, Micanite sheets , Nichrome resistance wires for serving moderate temperature applications. Mica heaters are suitable for a maximum of 280 deg cen. consult us if your requirement is above 280 deg cen.
Elmec Mica band heaters are used by leading OEMs and Plastic processing industries. We are supplying to Indian and overseas industries / markets.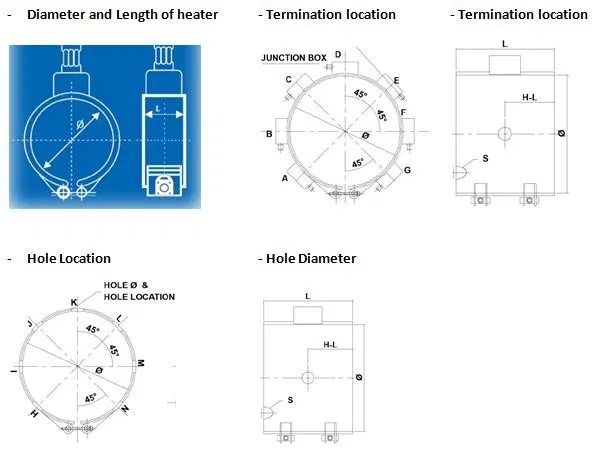 Do's and Don'ts:
Please take care while fixing heaters and selecting watts check Volts rating of heaters before connection. Heater rated for particular volts should never be connected to higher volts rating.

These heaters are rigid and heat transfer is by conduction from inside surface so perfect matching of dia is important. Heater should be fastened tight without air gap. Heater fixing surface should be perfect. Heaters should be tightened again after set temperature is reached as mica heater expands a bit. This will ensure better life of mica band heaters.

No foreign materials such as polymer, oil, water etc., should fall over the heaters they should be well covered.

Choose appropriate watts as per calculation. Under rated watts will result in heater failure.

Temperature control should be taken care. For higher temperature application do inform us while ordering.

Additional cover can be provided upon request at additional cost for energy saving. Do inform at enquiry stage. good only for sizes bigger than 100mm dia..
Features
Rust resistant Sheath.
Top Quality Nickel Chrome ribbon.
Max. 3.6 watts/cm2
Max. Operating temperature up to 250 °C
Available with inbuilt insulation pad to reduce power consumption.
Applications
Plastic Processing Machinery.
Injection and Blow Moulding.
Extruders & Many other applications.
Many other Applications. (Medical,Lab-Equipments....etc)